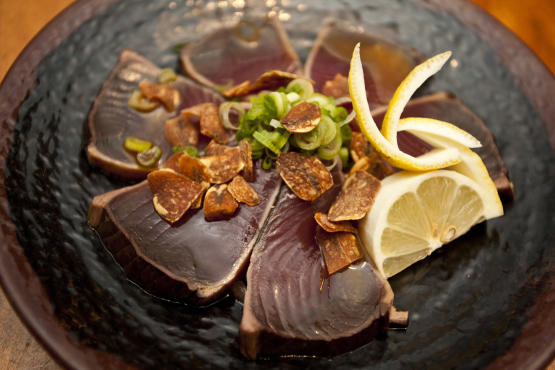 Recently, my twin wanted to come here with a bunch of people, and I was supposed to publish this so she can order without me. However, I ended up going with her, so that was easy. This post is going to be reflective of that particular night, since the menu has so many items.
Simply put, Sake Bar Hagi is a great location in the Theater District for typical sake bar appetizers and booze. Get a cheap snack here or go all out with the variety of raw and cooked seafood. Note that the entrance is somewhat hidden because this place is in the basement.
This is what we ordered (and watch out for cool specials):
TakoWasa (I'm just a huge fan of this)
Aburi shimesaba (I love seared fish)
LiverNira (yum for Asians or exotic food trying)
we also got a hamachi collar
MiniNabeyaki Udon (always pleasing especially since this restaurant gives bowls for everything)
Mentai Pasta (not great with the extra cream you might choose to pay for…don't bother with the entire dish)
Kimchee (quite different from the Korean one you'd expect)
Takoyaki (Octopus balls, preferably not deep-fried for your digestion)
Uni Sashimi (Sea urchin)
Chickenwings get the real name
Luckily this place doesn't rush you out though the inability to reserve a table means the possibility of being on a waiting list forever (forcing bonding time which is a good way of looking at it).
More tips:
Don't order onigiri here unless that's the only thing you wanted to eat because the rice ratio is too high and incredibly filling.
Do try the various Umeshu and sours. They are so fun.
Try to vary your ingredients. Get a variety of meats, vegetables, and more.
Sake Bar Hagi: 152 W 49th St, New York, NY 10019
+ (212) 764-8549